netDocShare SharePoint app - An Overview
Live-View, add, edit, attach, search, sync & provision NetDocuments content in Microsoft SharePoint and easily add netDocShare WebParts on SharePoint modern/classic pages.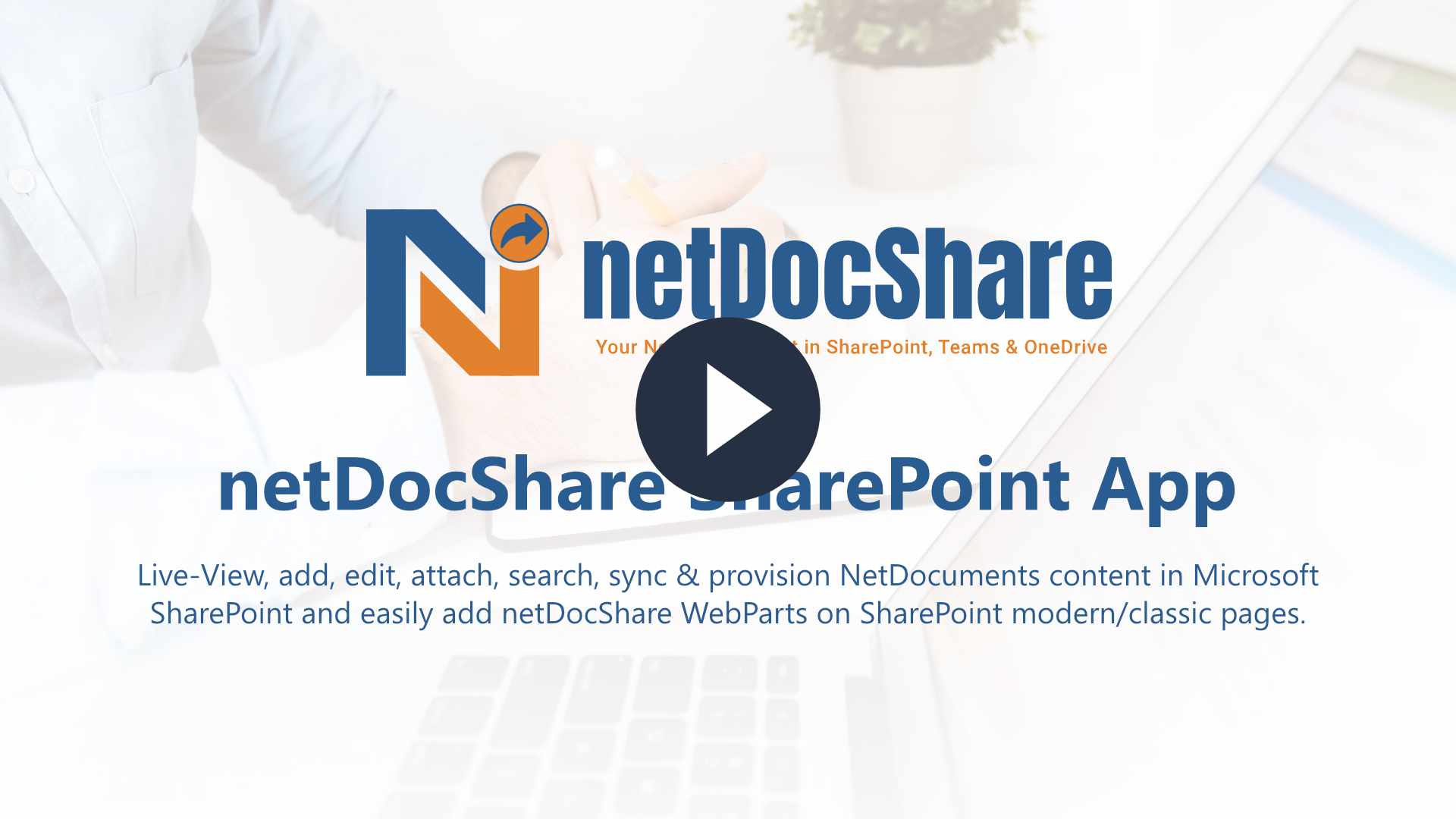 netDocShare integrates the best of NetDocuments & SharePoint. netDocShare allows SharePoint users to view, add, edit, attach, search, sync & provision NetDocuments "live" content in SharePoint Intranet Sites & Pages as well as in SharePoint Client Extranet Sites & Pages (integrated with ND CollabSpaces).
You can simply add netDocShare app to a SharePoint page or Web application page to view NetDocuments content stored in Cabinets, Workspaces, Folders / Sub-Folders, CollabSpaces, Saved Searches and Filters.  
Key Highlights
Search multiple NetDocuments content and Microsoft SharePoint content sources from one single integrated search interface in Microsoft SharePoint.
Automatically perform bi-directional/one-way sync of everything or selected folders/files, including metadata fields, between Microsoft SharePoint and NetDocuments Workspaces/folder.
Co-author Office (version 2013 or above) documents saved in NetDocuments right within Microsoft SharePoint using Office Client like Word, and Excel on their laptop.
Look up and link NetDocuments content documents within Microsoft SharePoint Lists and Document Libraries.
Ability to centrally manage and enforce netDocShare Settings, including enable/disable/default-value setup of properties that can be otherwise modified by Page Admins in SharePoint.
Add new or edit existing NetDocuments tasks within Microsoft SharePoint.
Add new or edit existing ndThread conversations within Microsoft SharePoint.
Key Functionalities
Document View
netDocShare Document Viewer supports a series of content views.
Normal Views : Access Documents, Saved Search, Filter in folders, sub-folders, cabinets, or workspaces easily via just point and click.
Recent Docs View : Users can specify and search "most recently accessed," "most recently opened" or "most recently edited" document.
Favorites View : Displays all favorite documents under a separate view and accesses all the favorite files and folders in one place.
Go to Client/Matter View Users can navigate to a specific workspace using.
Content Operations
Users can perform a series of actions on NetDocuments Content such as Edit Profile, Preview Document, View in Browser, Check Out, Co-author, Check In, Download, Rename, Delete, Lock Version, Get Secured Link, Email Link, Follow, Create a New Version, and Margin Notes.
netDocShare solution creates an enabling environment for lawyers to access NetDocuments files accessible in SharePoint portals and searches. Conversely, netDocShare also allows SharePoint users to navigate and access NetDocuments files with a user-friendly interface. By bridging and building interoperability between NetDocuments and SharePoint, netDocShare provides the necessary flexibility and ease of access while addressing the requirements of confidentiality and privacy.