netDocShare Teams app - An Overview
netDocShare Teams app lets you Live View, Edit, Add, Attach, Sync, Search & Provision NetDocuments content in Microsoft Teams
netDocShare Teams app can be used in any Teams Channel to view & edit any NetDocuments content (namely Workspace, Cabinet, Folder, Sub-Folder, Filter, Saved Search, ShareSpace, and CollabSpace). You can build a custom view with the desired metacolumns, including the ability to control the width and order of appearance for each metadata column. The Ability to create custom views, and then sort & filter them is so unique to our product and is something that our customers love. Now you have the ability not to just create a custom view of our data of those multiple sources in one tab instead of adding several tabs. But you can also slice & dice the database the way you prefer to see it.
Key Highlights 
Share NetDocuments content from Channel Tab into the Posts Tab.
Share NetDocuments content within Team Channel Posts, 1-1 Private Chat & the Teams Meeting.
Advanced Search capability to search for specific NetDocuments content sources right within the Channel tab.
Save/Archive Microsoft Teams Channel Post (incl. attachments) Threads to NetDocuments for compliance/governance.
Easily Synchronize NetDocuments documents or doc links with Teams Files Tab using Quick Sync.
*netDocShare Teams app
Is the only highly approved third-party app for NetDocuments content in Microsoft Teams.
Pin As A Personal App
Users can pin the netDocShare Teams app as a personal app for quick access anytime on Teams on their Favorite documents, Recent Documents, or ndThread.
netDocShare Teams App Features
netDocShare Bot is a chatbot powered by ChatGPT that lets you find, use and share NetDocuments within Teams chat, 1-1 private chat & meeting chat.
Document View
netDocShare Document Viewer supports a series of content views.
Tree view enables one to view multiple NetDocuments content sources in the same tab without the need to add several tabs to the Teams channel.
Normal View shows the contents of a single container or workspace.
Recent Docs View helps you find the most recently viewed documents.
Saved Search View shows the content of a saved search.
Favorites View helps you search on your favorite documents or containers and filter your favorites.
Go to Client/Matter View enables you to navigate to a specific workspace using.
*The key takeaway is our customers love the ability to choose how they want to see the content & modify the different metadata columns.
Key Functionalities
View
View the client-related NetDocuments CollabSpace content in externally shared Teams.
Advanced Search
We brought the entire search experience, the ability to search for a particular source or all the sources right within the tab through the Advanced Search capability. Once you search, it gives you a nice filer taxonomical view, allowing you to sub-filter further.
*A user can simply search keywords in the Title of a document or from the entire document.
Search Behavior
The Advanced Search behavior helps to find the required information on the current page or from the previously viewed pages shown in the breadcrumb list.
Co-authoring allows users to simultaneously work on Microsoft Office documents stored in NetDocuments within Microsoft Teams.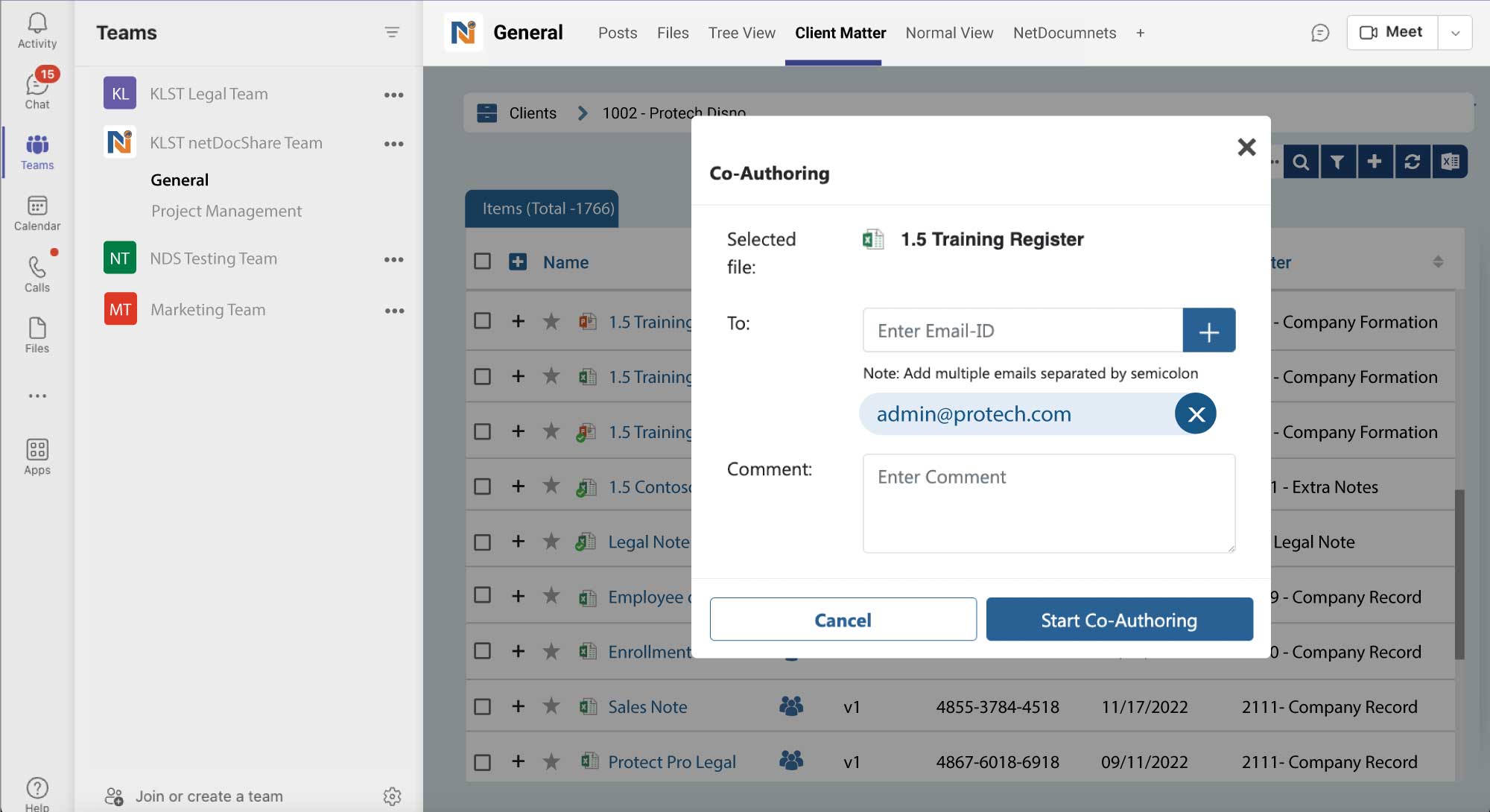 Track Version History
Ability to preview & keep track of changes to documents by accessing Version History.
Drag & Drop
You can simply drag and drop the document from your local machine into Teams, so you can share it with other colleagues.
Create A Folder
You can create a folder so it is easy to organize your documents on the netDocShare interface.
Create A New Document
You can create a new Document right on the netDocShare interface.
Save
The key ability of the netDocShare Teams app is to reference NetDocuments content within conversations & save Teams' conversation Thread to NetDocuments for compliance and Microsoft Teams Governance.
You can strip out documents from the conversations and save them in NetDocuments.
You can save the attachments within conversations.
You can save the thread of a conversation.
You can save to NetDocuments content within Teams.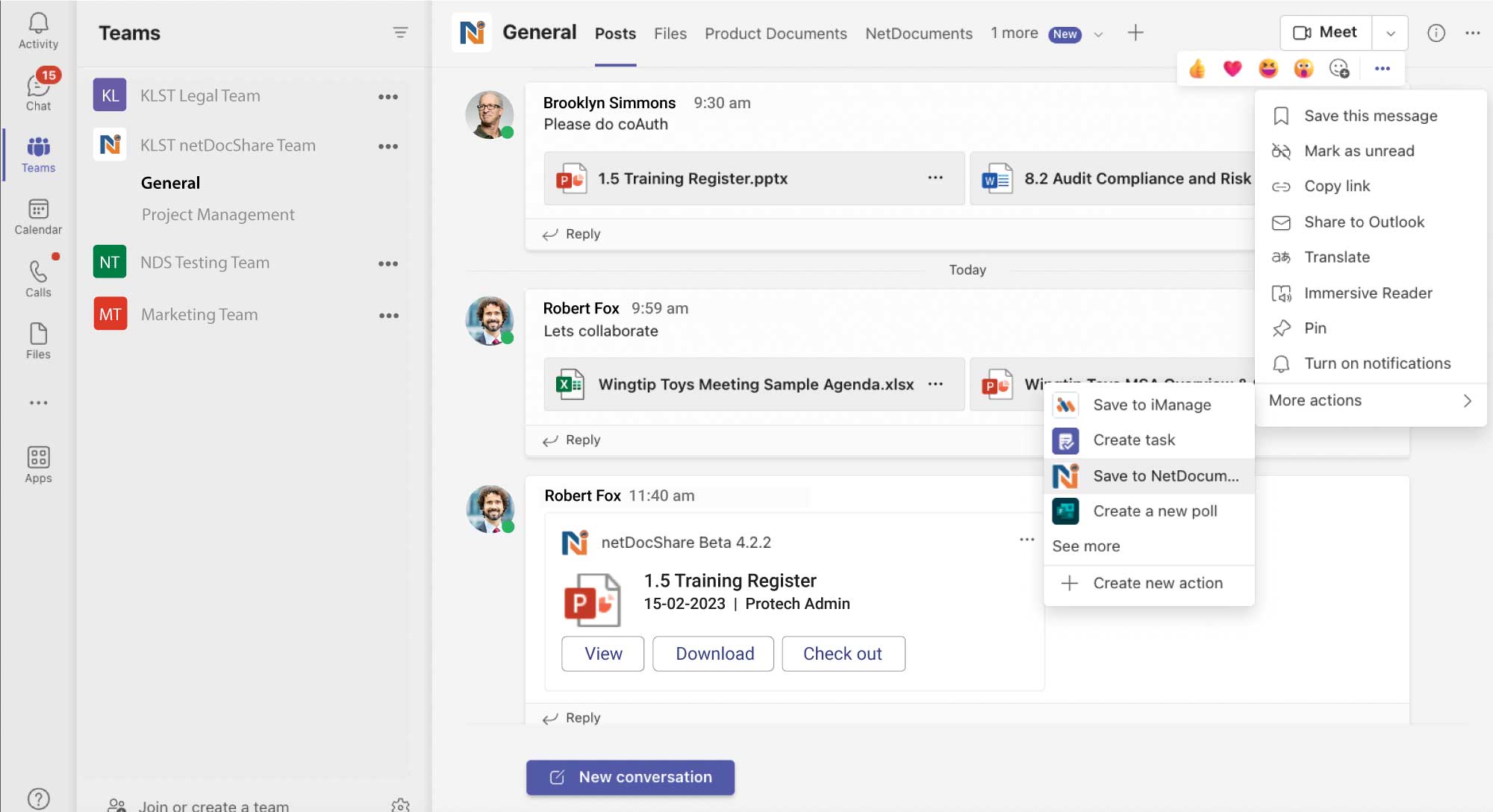 Attach Documents
Users can upload & attach documents to the NetDocuments workspace.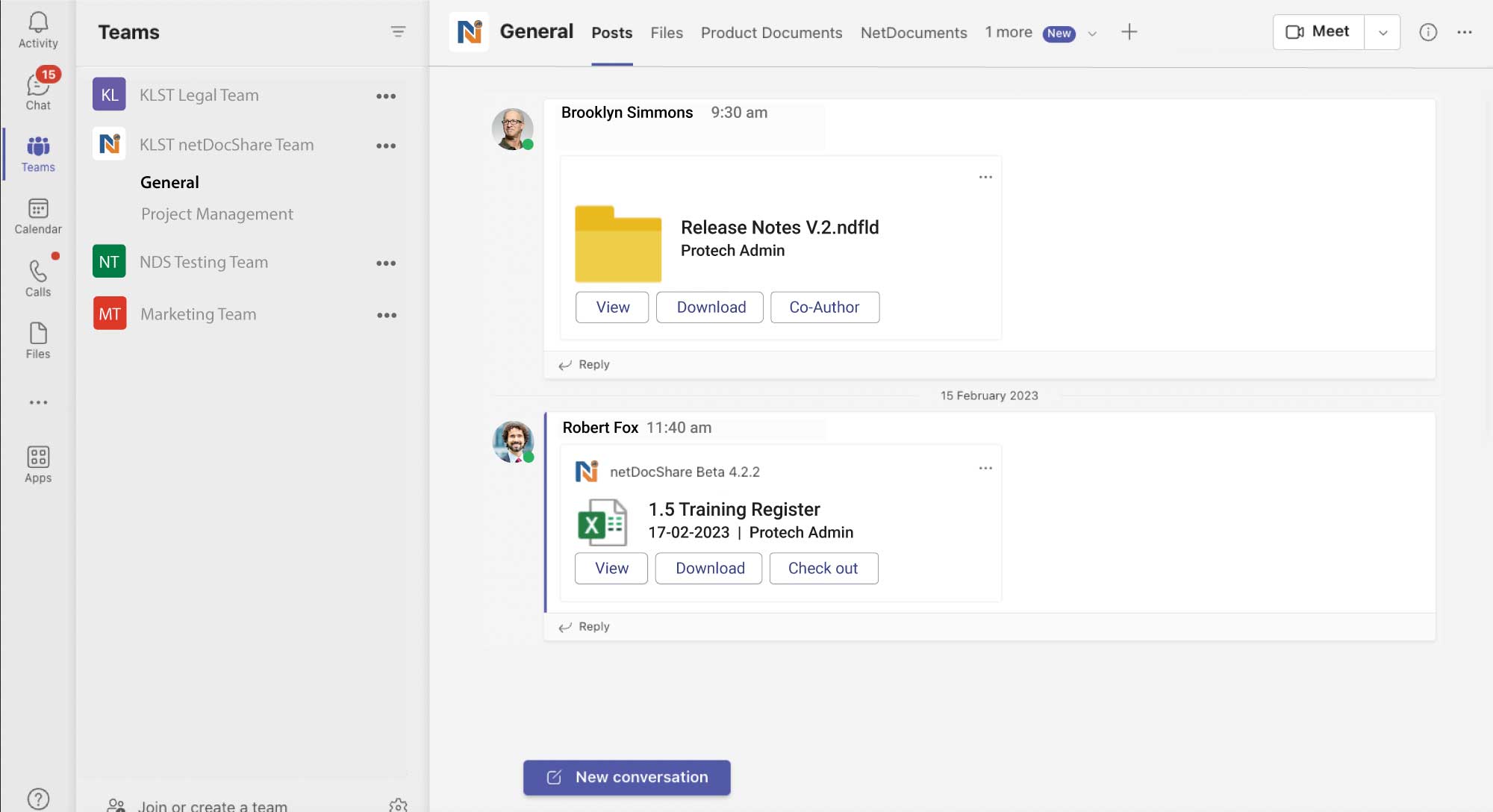 Content Actions
A series of actions on NetDocuments content supported by the netDocShare Teams app.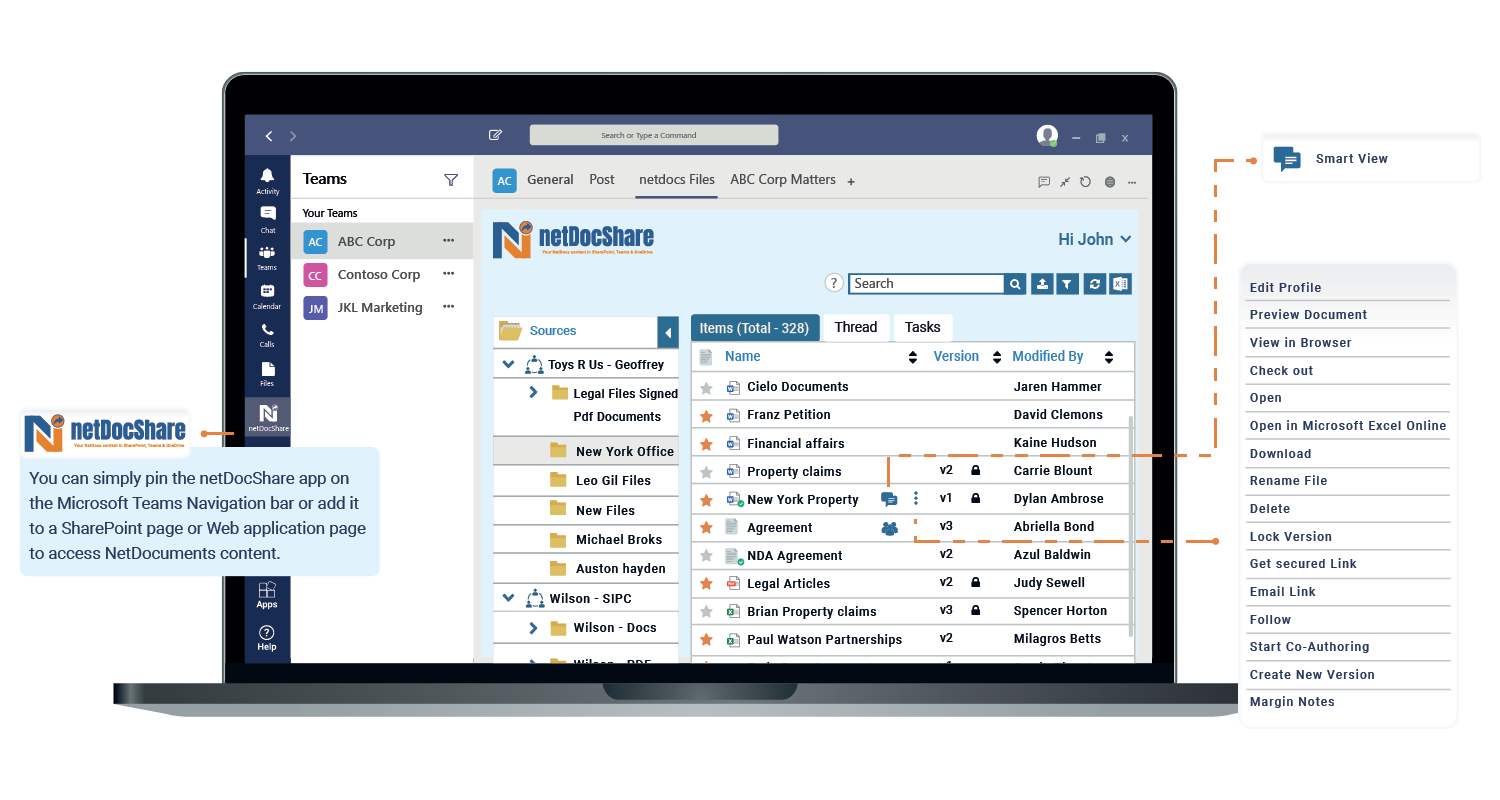 Edit Profile
Users can just click on the "Edit Profile" and live edit the profile of the document attributes including the Document name, Client, Matter, Field parameters, Description, Title, and so on.
Preview Document
Users can preview the current & previous versions of a document and choose a particular version to be the official version.
View In Browser
View any NetDocuments document in a new browser.
Check Out
Users can check out a document to perform content updates for them alone & preventing other users from editing the content. My checked-out documents let a user view all the documents they have checked out within the NetDocuments tenant across the board, across cabinets, workspaces, and folders.
Check In
Check In means once a user is done with editing/updating a document and wants to release the lock allowing others to edit it. Basically, users can update the modified document by replacing the previous version with a new one.
Download
Users can download a NetDocuments file or folder from the netDocShare interface.
Rename
Users can rename a NetDocuments file or folder within the netDocShare interface.
Delete
Users can delete a NetDocuments file or folder within the netDocShare interface.
Lock Version
Users can lock the version of any NetDocuments document that they prefer, basically can lock a document version.
Get Secured Link
When users prefer to share a confidential document in NetDocuments, they can create a secure shareable link to that particular document to make it simple for sharing.
Email Link
Users can create a shareable link for any NetDocuments document and this makes it simple to share this link in an Email.
Follow
Following a document helps users to get alerts on all changes in a document through mail notifications. This simply helps to track changes or updates in that a document.
Create A New Version
Users can create a new version from the existing document versions.
Post
Users can share content from NetDocuments Tab into the channel post.
Margin Notes
Margin Notes allows users to collaborate by adding comments to any content within a document.